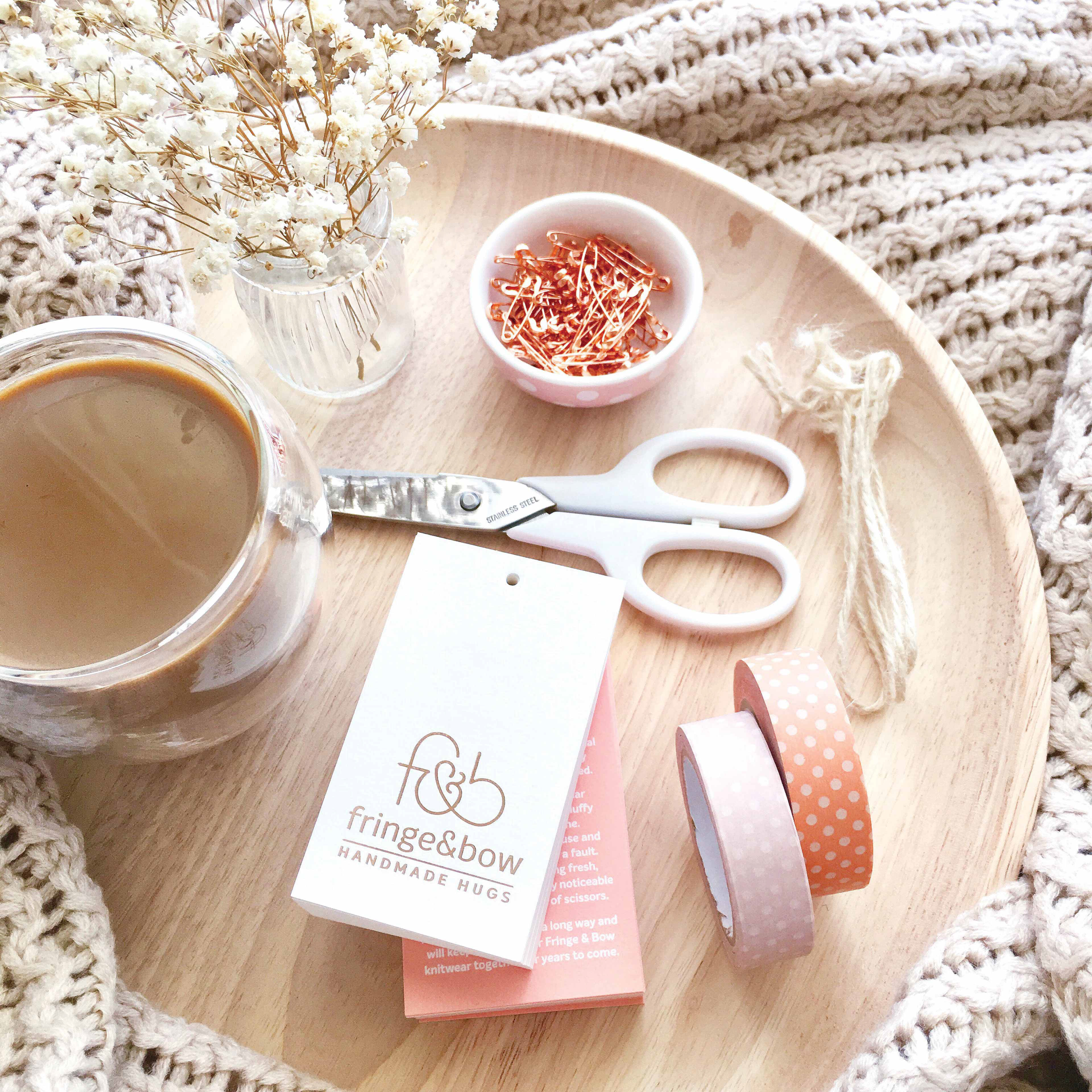 Product Range
Each Fringe & Bow piece is lovingly handmade by me in Brisbane QLD, using crochet or knit based techniques. To date, the collection includes cozy winter wearables, necklaces, tote bags, cushions, throws and wall hangings — each consciously designed to minimise material wastage, without sacrificing aesthetics. Fringe & Bow's goal is to combine traditional crafts, with a modern edge and cuddly yarn, to create uniquely stylish pieces — fondly known as little handmade hugs. 
In addition to offering finished products, I'm also planning to provide patterns and teach workshop classes. My goal is to share my knowledge with an audience who is keen to appreciate and learn artisan techniques — ultimately to be a proud ambassador for the slow living handmade movement.
Crochet Reimagined
As much as I love super squishy chunky crochet, I also enjoy creating unexpected pieces that utilise techniques you wouldn't normally think of. 'The Chevron' necklace and wall hangings featured here are prime examples of this. Both pieces draw inspiration from a macramé-like aesthetic (to the untrained eye, you may even think they are macramé), but they are in fact constructed entirely from crochet stitches. Diversifying my technique keeps things fresh and gives me the opportunity to experiment with different secondary skill sets. For example, the wall hangings allow me to learn more about wood working, while the necklaces allow me to flex my jewellery making muscle. This process of learning new things is what keeps me going, to me it's the most exciting part of being a maker.
Photo Styling
Fringe & Bow also allows me to experiment, whilst improving my photo styling and photography skills. Where possible, I endeavour to take all of my own product photography (with the exception of outdoor location shoots that feature me as a model). Photography has always been something I've had an interest in and Fringe & Bow gives me the opportunity to actively learn more about the world of product photography styling.
Handmade Markets
Over the years I have been fortunate enough to participate in several large scale handmade markets. To name a few: Brisbane Etsy Made Local, Finders Keepers, GOMA Winter Design Market, GOMA Christmas Design Market, Bowerbird Design Market and Handmade Canberra. These type of event based environments are wonderful opportunities to test how my brand and products are received in the real world. They attract a wide audience and it's great to see the reactions of customers first hand — this has assisted me significantly in tweaking certain facets of my offering to better serve my target market and their needs. Exposure to other brands is another exciting outcome of participating in markets like these and they're something I always look forward to.

eCommerce Management
Fringe & Bow has also created the opportunity for me to branch out into different areas of the eCommerce process, that as a designer I wouldn't normally be across in such detail. For example, writing product descriptions, researching shipping profile requirements, inventory and order management, all via the Etsy platform (this includes both the traditional Etsy store setup and Etsy's 'Pattern' website platform).
Brand Experience
To build on the idea of connection, every point of the Fringe & Bow brand experience ties back to this ideology, in order to strengthen the brand in the customer's mind. This provides the opportunity for the brand to live on in people's homes, for example through a personalised thank you postcard (which may be later displayed on a mood board), or branded calico bag that acts as product packaging (a personal favourite to repurpose and carry crochet projects in) and of course an ultraleather garment tag to remain with each product through its life.
Content Creation
The Fringe & Bow online social media brand experience invites the customer to continue this brand journey, by showing insights into the maker's life behind the product they have purchased. The hope is to turn a simple purchase into an ongoing investment with the Fringe & Bow brand.